Meet Linda Archie & Associates
Linda Archie earned the #1 ranking among the Berkshire Hathaway HomeServices California Realty 2019 Elite Circle Award Winners
Why People Choose Me as Their Agent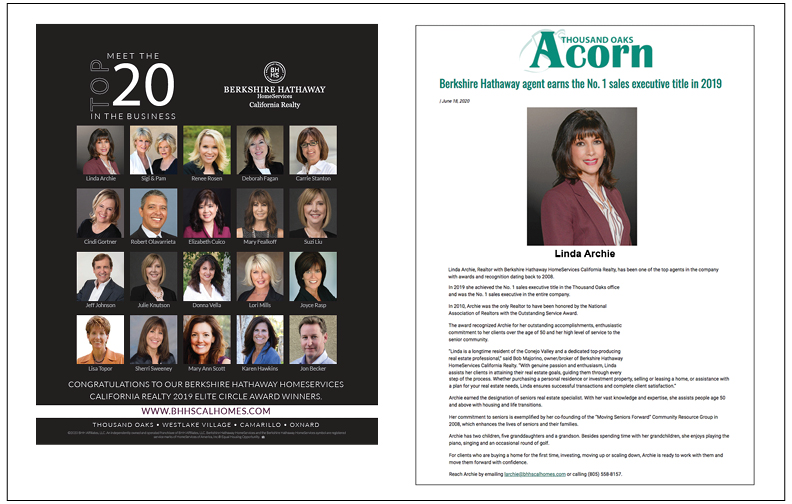 For 16 years, Real Estate Professional Linda Archie has earned an outstanding reputation for assisting clients with passion and dedication. During that time she has been recognized and awarded for her commitment, knowledge and experience. Linda's clients agree that providing personalized real estate service is always her top priority.
Linda brings a rare combination of experience, proven systems and resources, which ensures successful transactions and complete client satisfaction.
Linda has earned three distinct designations that highlight her dedication to her clients. The first is her designation as a 50+ Real Estate Specialist. With this specialized knowledge and expertise, she assists people with housing and life transitions. This gives peace of mind to her clients – Assuring them Success Without the Stress! Her commitment to seniors is also exemplified by her founding "Moving Seniors Forward" Community Resource Group in 2008. This group is dedicated to enhancing the lives of seniors and their families. If you're 50 + you can trust in us!
Linda has also earned the designation of Luxury Collection Specialist. With expertise and knowledge of her local luxury market, she utilizes the specialized marketing tools offered through Berkshire Hathaway's resource marketing center. That allows her to leverage the company's brand strength for the ultimate in client satisfaction.
In addition, Linda has experience working with people who are relocating to the Conejo Valley and surrounding areas. As a Relocation Specialist, she is honored to work with local businesses assisting their employees with the home buying process and finding the right home.
Whether you are a home seller, a first- time buyer, moving up, smart sizing, leasing, or relocating, Linda is there for you assisting you through the entire process – Providing Outstanding Service with Outstanding Results!
"I would be honored to be your trusted advisor and walk you through the 'Real Estate and Lifestyle Planning Guide,' helping you become better informed as you plan your real estate journey. Please contact me to receive a Complimentary copy today!"